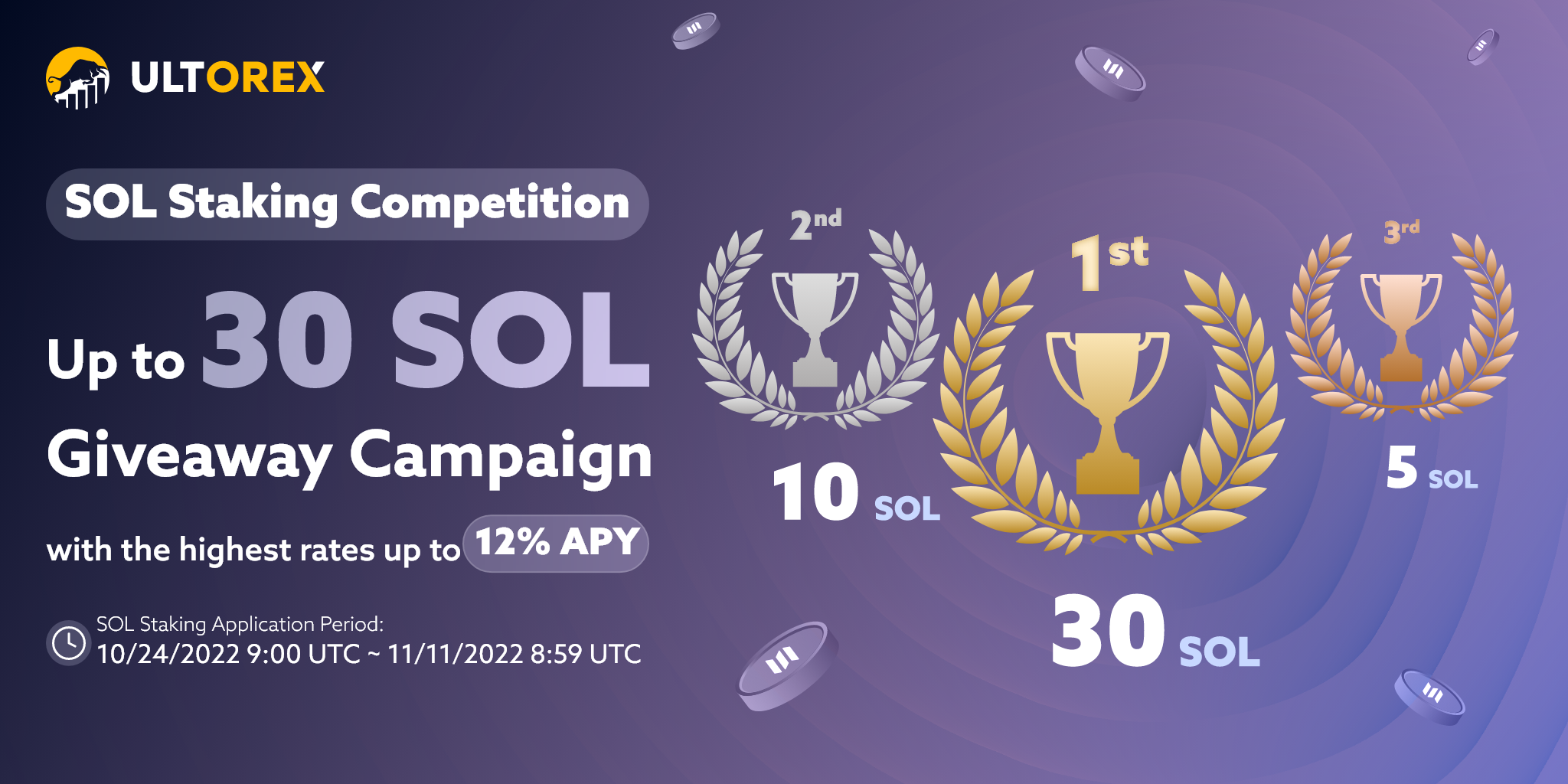 Ultorex is offering a special campaign to give away up to 30 SOL to users who take part in SOL staking or ULT earn 90. All participants who meet the requirements will also receive 0.2 SOL.

■ Offering an industry high SOL staking reward
💰 Staking reward: APY 5 ~ 6%

💰 ULT Earn 90 reward: APR 12%

The total of amount staked and put under ULT Earn 90 will be used to determine rankings. ULT Earn 90 is subject to a limit and applications may not be accepted once the limit is reached.

■ Campaign Summary
The top three with the highest amount of SOL staked during the period will receive up to 30 SOL! Further, 0.2 SOL will be rewarded to all who meet participation requirements!


■ SOL Staking Application Period
10/24/2022 9:00 UTC ~ 11/11/2022 8:59 UTC


Only Staking and ULT Earn 90 are eligible for the campaign. ULT Earn 30 and 60 are not eligible.


To be rewarded, campaign period applications must be submitted until 11/11/2022, but Staking must continue until 2/10/2023. ULT Earn 90 requires you apply during the campaign period and do not cancel in the middle of the campaign. Rewards will be distributed by 2/28/2023 after confirming the reward recipient has continually staked until 2/10/2023.


Participation prizes will be awarded by 2/28/2023.

■ Campaign Details
All users who fulfill the requirements will each receive 0.2 SOL.


Requirements
Stake a minimum of 5 during the campaign period.

Follow Ultorex (

https://twitter.com/UltorexOfficial

) on Twitter.

Like and Retweet the campaign tweets. (https://twitter.com/UltorexOfficial/status/1584469931919552512

)

Fill out the campaign application form

*. (https://forms.gle/ZfVoCpfrSmE6HHBEA)
*You do not need to re-fill out the form if you stake an additional amount.


Up to 30 SOL to the Top 3
The top three with the most SOL staked will receive up to 30 SOL.


Rankings, nicknames, and respective staking quantities will be displayed on the campaign page. Please note if you do not meet the requirements for Twitter and form entry, you may not be ranked as a result.


↓ The campaign page will be added after it is created.
https://ultorex.io/sol-campaign
| | |
| --- | --- |
| Rank | 30 SOL Reward |
| 1 | 30 SOL |
| 2 | 10 SOL |
| 3 | 5 SOL |
| Participation Reward | 0.2 SOL |
Campaign rewards will be distributed directly to Ultorex Wallets.

■ Remarks
SOL unstaking takes approximately ~2 days (~48 hours).

For detailed rules and conditions regarding staking and ULT earn, please verify the application page when the campaign begins.

We hope you take this opportunity to participate in Staking and ULT Earn 90, which offers the highest level of rewards in the industry.

Ultorex Team