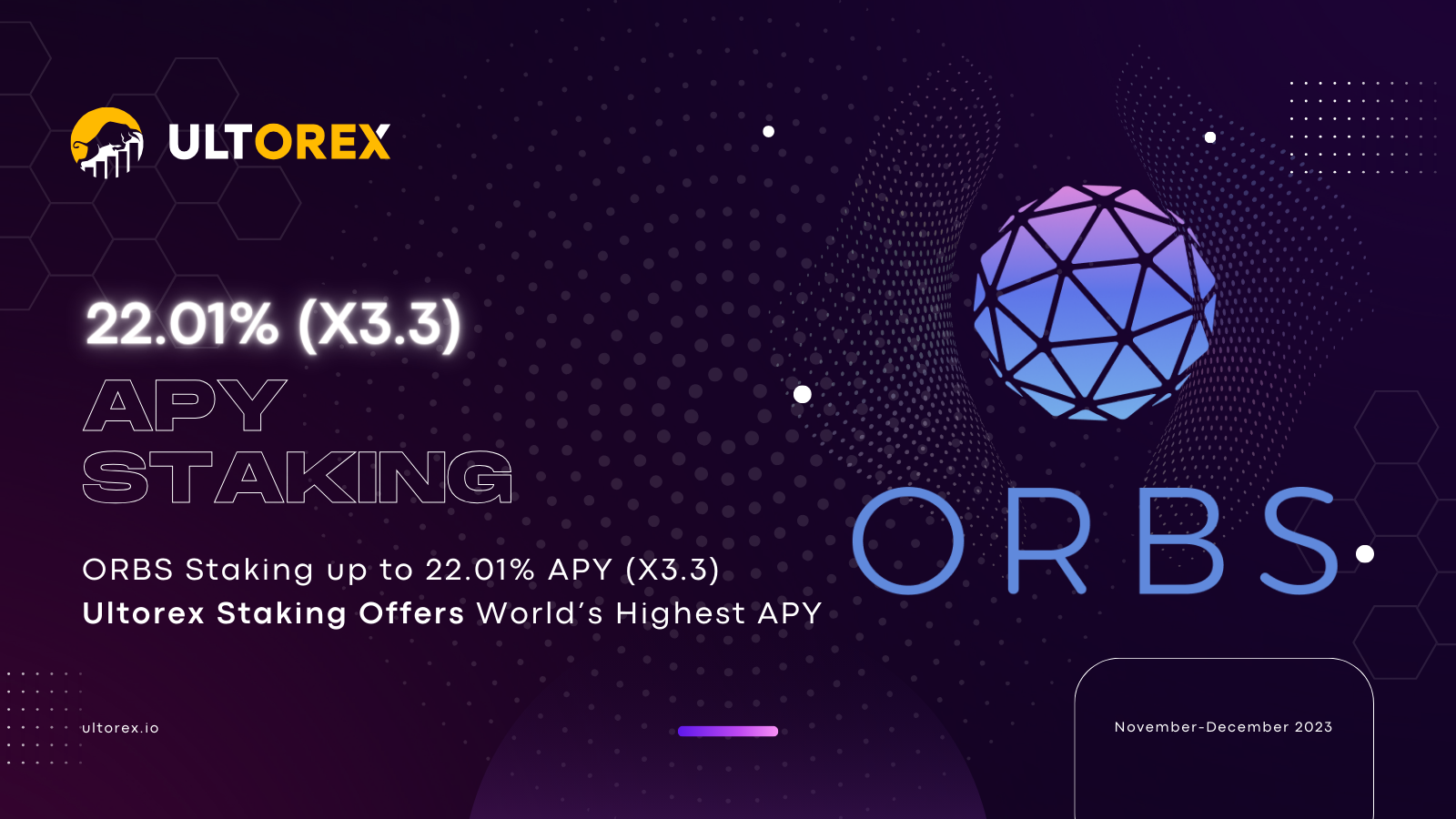 *Ultorex will change the APY for new staking during December from 14.67% (before change) to 22.01% (post change).

Ultorex is offering world-class staking rewards of up to 22.01% APY (3.3 x the normal rate) for newly staked ORBS during the eligible November ~ December 2023 period! We hope you will take advantage of this special Ultorex staking deal.

Campaign Period
11/15/2023 9:00 UTC ~ 12/31/2023 23:59 UTC
Special Staking Rewards
Users will earn a total of 22.01% APY (3.3 times the normal rate) for newly staked ORBS for November during this campaign.

Users will earn 14.67% APY (2.2x the normal rate) before the change to 22.01% APY (3.3x the normal rate) after the change for new staking during December.

At 0:00 UTC on January 1st, 2024, the APY rate APY will revert to the standard 6.67%.

Stake Your ORBS Here: https://ultorex.io/stake

Example
Alice has staked 500 ORBS before the campaign, staked an additional 200 ORBS on November 15, then further staked an addtional 100 ORBS on December 3.

The 500 ORBS staked by Alice before the campaign is not eligible for the campaign APY rate.

[Before]
For the 200 ORBS staked on November 15, Alice will earn 3.3x APY from November 15 to 30 and 2.2x APY from December 1 to 31.

For the 100 ORBS staked on December 3, Alice will earn 2x APY from December 3 through December 31.


[After]
A total of 300 ORBS staked during this campaign will earn 3.3x APY.

Distribution of Special APY Rate Rewards
The special reward earnings of this campaign will be distributed during January 2024. The Orbs Team plans to distribute the special reward to Guardian nodes during then.
Terms
Newly staked ORBS must be staked until December 31, 2023.
Unstaked tokens during the campaign period will not be eligible.
Tokens unstaked during the campaign period and subsequently re-staked will not be eligible for rewards.
Automatic compounding of rewards does not count as newly staked ORBS.
If Orbs changes the APY during the campaign period, Ultorex may also change the APY.
Orbs official article: https://www.orbs.com/triple-apy-for-new-orbs-stakers/
Ultorex Staking Features
Ultorex allows for easy staking without the hassle and fees associated with bridging to the Polygon chain. ORBS deposits and withdrawals can be made on either the Ethereum or Polygon chain. Staking is automatically done on the Polygon chain. (If you deposit as ERC20 tokens, Ultorex will take care of the difficult and gassy fees and bridge the deposit to the Polygon chain for staking).
Supports automatic compounding
There is an ON-OFF switch to accommodate automatic compounding of ORBS staking. ORBS staking rewards are automatically re-staked once each week. Automatic compounding occurs every Monday.


For detailed rules and conditions regarding the staking service, please verify the application page before applying for the service at the start of the service.
Past announcements related to Orbs

ORBS staking up to 8.5% APY Ultorex will distribute 50% of Guardian Node fees to the top 10 stakeholders, which are available on a special page.
https://support.ultorex.io/hc/en-us/articles/11451016500121

An Important Notice regarding ORBS staking
https://support.ultorex.io/hc/en-us/articles/5723276232473

Ultorex Team