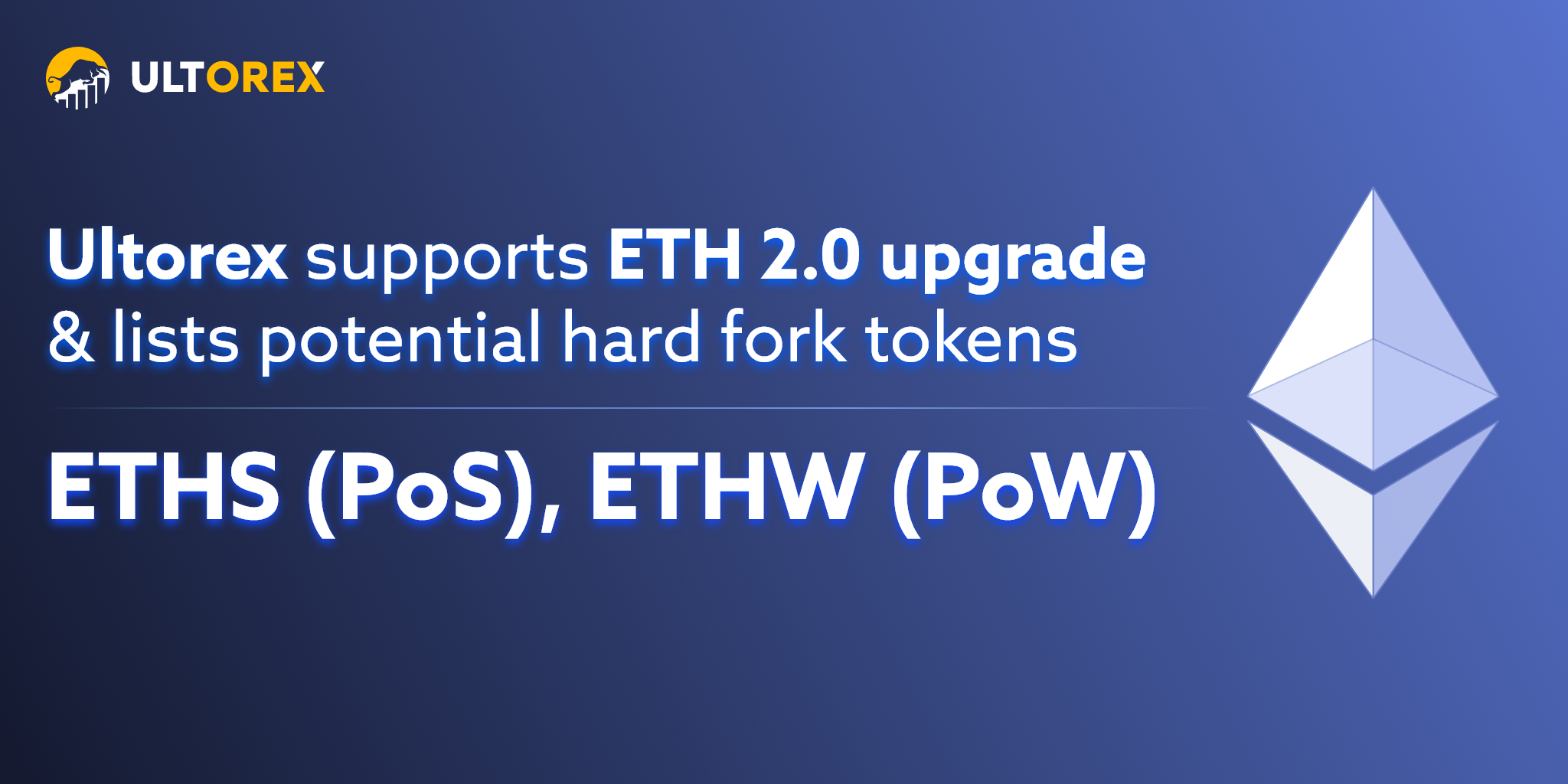 The 'Merge' upgrade for Ethereum 2.0 is planned for September 2022. Ultorex plans to support either Ethereum upgrade and its possible hardfork. If The merge succeeds, there may be two parallel blockchains created after the upgrade. All ETH holders on Ultorex will be able to receive their forked assets at a 1:1 ratio upon completion of the upgrade.


In order to reduce the risk of market volatility during a hardfork and to protect users' assets, Ultorex will list two "potentially forked" ETH tokens and related markets in the following arrangements.


1. Before the upgrade, ETH holders on Ultorex can visit the swap page to swap ETH into two "potentially forked" tokens at a 1:1 ratio (1 ETH = 1 ETHS + 1 ETHW). Users can also exchange ETHS and ETHW for ETH in the same ratio before upgrading. Ultorex plans to open corresponding markets with the following schedule:

Possibility of forked tokens -
ETHS: Token for the new PoS (Proof of Stake) chain

ETHW: A PoW (Proof of Work) chain token that may survive after the hardfork

Swap (ETH → ETHS & ETHW) period: From 8/11/2022 9:00 UTC until around the ETH 2.0 upgrade is determined

Swap (ETHS & ETHW → ETH) period: From 8/11/2022 9:00 UTC until around the ETH 2.0 upgrade is determined
Market pairs ETHS/USDT & ETHW/USDT
* In the future, there may be more pairs that can be traded.

Swap, Listing and Trading: 8/11/2022 9:00 UTC ~


ETHS & ETHW cannot be withdrawn.

2. Ultorex will take a snapshot of all ETHS balances before the upgrade. If the ETH 2.0 upgrade ends in multiple chains.
ETHS will automatically convert to upgraded ETH at a 1:1 ratio and the ETHS market will be closed.

After the hardfork, the PoW chain with the highest hashrate will serve as the main ETHW chain. User-held ETHW will be automatically converted into upgraded ETHW at a 1:1 ratio.

Ultorex will also support any other PoW chains resulting from forks and will fully respect the community's opinion on token naming.

Ultorex plans to align the name of the token to final community consensus and re-enable token deposits and withdrawals in sequence.
Stay tuned for future announcements regarding snapshots and airdrop details.


3. If ETH 2.0 upgrade completes without forking (Ethereum goes from PoW to PoS).
The ETH acronym will be preserved.

In this case, Ultorex will suspend and delist ETHS, ETHW and their related markets.

Users can exchange ETHS and ETHW tokens for ETH at a 1:1 ratio (1 ETHS + 1 ETHW = 1 ETH)
We advise you carefully consider the potential risks.


Details and dates of delisting ETHS and ETHW will fully be determined and announced by Ultorex.


Note:
Ultorex will take the above measures based on the latest market information and community consensus, and will continue to do our utmost to maintain market stability. Further details will be communicated from time to time as necessary.




Ultorex reserves the right to modify or change this announcement (e.g., pre-delisting of applicable trading pairs) at any time to keep up with the latest market developments.
Risk Warning:
Trading or investing in "potential fork" tokens carries a high degree of risk, as Ethereum hardforks are still subject to uncertainty. This potential fork may not continue due to insufficient hashrate and possible lack of support from developers or community members, in which case the token will either lose all value or be delisted from Ultorex. We do not guarantee the value of "potentially forked" tokens. Please exercise caution before making any decisions.

Ultorex Team